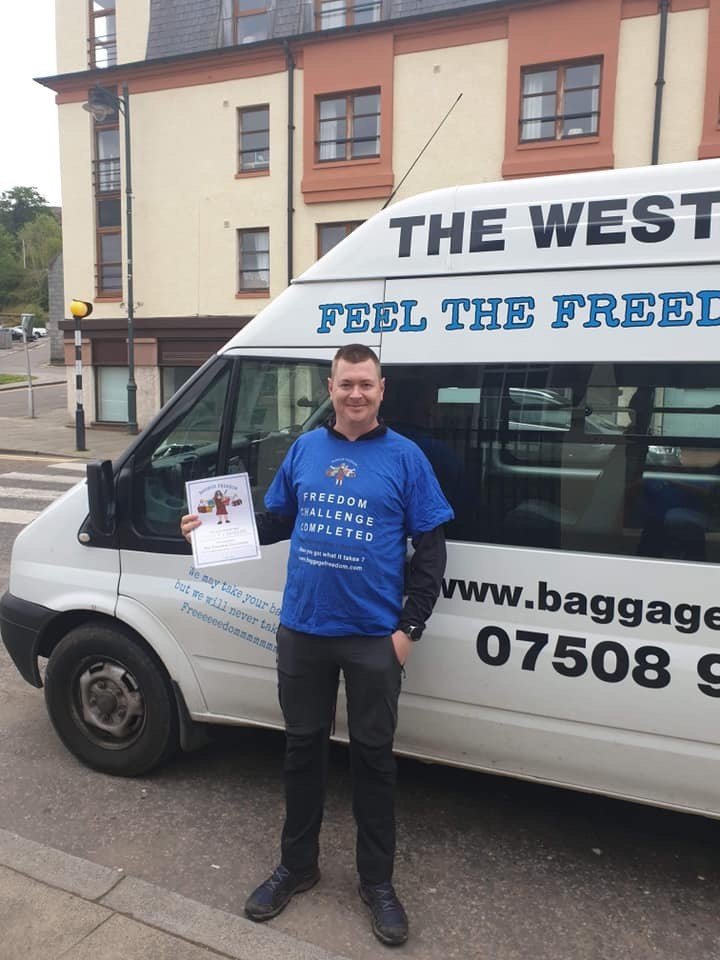 The Freedom Challenge
Full West Highland Way walk + Ben Nevis + baggage and tent transfer + pet friendly return transfer. Pets travel FREE. All this for only £195pp
Description
Do you like making new friends and being part of a team?
Got your own tent and love camping?
Got a spare £195 and a week off work?
Well take on the Freedom Challenge!
Each challenge will start on a Monday and end on a Sunday. You will be camping the full West Highland Way followed by a full day of conquering the UK's highest mountain… Ben Nevis!
Save the time, hassle and stress – let Baggage Freedom organise all your camping locations along the route. We will move your baggage along each stop for you and also bring you back to Glasgow on Sunday! The majority of campsites you will be staying in have shower facilities, Wi-Fi and a local shop handy.
Yes, that's right, a full week's challenge for just £195!
Starting each Monday morning from Milngavie Train Station, We will meet you to collect your baggage and tent, and give you a briefing as to which location you will be walking too. You wont do any more than 20 miles in a single day and you wont have a big heavy bag to weigh you down either! You will set off as a group of 8! You may not know each other but its all part of the challenge and a great opportunity to meet like minded trekkers and campers! 1 or 2 man tents only please as some larger ones will not be accepted at the campsites.
The route:
Monday: Milngavie to Balmaha (19 miles)
Tuesday: Balmaha to Inverarnan (19 miles)
Wednesday: Inverarnan to Tyndrum (12 miles)
Thursday: Tyndrum to Glencoe (19 miles)
Friday: Glencoe to Kinlochleven (13 miles)
Saturday: Kinlochleven to Fort William (14 miles)
Sunday: Up early Morning to climb Ben Nevis, This can take between 6/8 hours depending on pace. (Please only attempt this part if you are fit/able and feel confident enough to get up and back down safely.)
Returning to Milngavie: Baggage Freedom Return transport will pick you up from your Fort William campsite location at 6pm.
The details:
You will walk the West Highland Way from Monday until Saturday, Your campsites will all be booked for you and you will be briefed in advance at Milngavie station of any changes that may occur. On the Sunday morning you will get up early and climb Ben Nevis. Baggage Freedom return transfer will pick you up from your Fort William campsite at 6pm and bring you back to Milngavie.
Ben Nevis: The walk is just over 4 miles each way – a total of 8 1/2 miles in all. The Ben Nevis Tourist Path (often called the mountain track) is the only path that should be attempted by the novice walker. It is strongly advised that you return by the same route and take a map and compass with you. IF IN DOUBT, HEAD BACK OUT. The challenge should only be done by individuals who are fit/able and who are confident they can complete the FREEDOM CHALLENGE!
You can be at total ease knowing your baggage will be waiting for you at each location with our professional, friendly, insured, reliable service.
Important:
You won't walk more than 20 miles a day, and you won't have a bag to weigh you down as we carry this for you as part of the service.
We, and all the campsites, are pet friendly so you can bring your furry friend along for the challenge!
The Freedom Challenge is a full camping package, however you have the opportunity to upgrade into something better along the way. This is between you and the campsite. Most campsites will only allow up to a two-man tent.
Please let us know in the information box what size of tent, and how many pets you are bringing with you.
ALL FREEDOM CHALLENGE PAYMENTS ARE NON-REFUNDABLE as we use these payments to secure your campsite pitches.
ARE YOU READY TO FEEL THE FREEDOM? BOOK NOW! 
Complete the challenge and earn your Freedom Challenge certificate!
£195.00
ONLY